Dermal Fillers
Juvéderm® Collection, Restylane® Collection, Radiesse®, Belotero®, Versa®, Sculptra®
Dermal fillers are a natural way to replenish age-related volume loss and stimulate underlying structural collagen formation. Dermal fillers gently plump and lift the skin, replacing the volume loss we all experience due to aging. They can also be used to fill wrinkles, lines, and scars. Certain types of dermal fillers can even stimulate your body's underlying structural collagen production for longer-lasting results. Most of today's dermal fillers are 100% natural.
Most patients treated with dermal fillers should see immediate results. Depending on the type of filler used, results may be visible for six months up to two years following their initial treatment, depending on the type of filler and the treatment area.
Neuromodulators
Botox®, Dysport®, Xeomin®, and Jeuveau®
The #1 most popular cosmetic treatment in the world!
Botox®, Dysport®, Xeomin®, and Jeuveau® are injectable neurotoxin treatments that temporarily improve the appearance of wrinkles caused by repeated facial expressions like smiling, squinting, or frowning. Results are excellent across all age groups, softening existing lines and preventing new lines from forming.
After treatment with Botox®, Dysport®, Xeomin®, or Jeuveau® you may begin to notice results in 3-4 days, and you will see the full effect of treatment in about 2 weeks. Your results can last up to 3-4 months and will typically become longer lasting and more effective with regularly scheduled treatment.
How do Dermal Fillers Work?
Dermal fillers like Juvéderm® & Restylane® are composed of a substance called hyaluronic acid which is a natural chemical found in every cell in your body. As dermal fillers are injected into the areas of your face that have lost volume, they smooth the appearance of any overlying mild to moderate wrinkles and also replace lost tissue volume.
How does Botox® / Dysport® / Xeomin® / Jeuveau® Work?
Botox®, Dysport®, Xeomin®, and Jeuveau® are purified proteins which, after injected, temporarily block nerve signals that direct facial muscles to contract during facial expressions. When these muscles are prevented from fully contracting, the lines, folds, and wrinkles in the skin's surface are prevented from forming.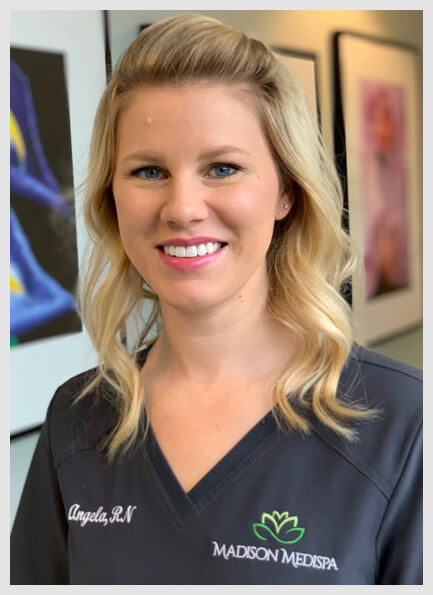 Angela Trawinski, RN, BSN
Certified Nurse Injector
Angie is Madison Medispa's aesthetic nurse. She has excellent attention to detail and is driven to constantly update her knowledge base with the safest and most effective treatment techniques, which is a terrific combination for any aesthetic provider! She recognizes that we all have insecurities and things we would like to change about our appearance, and she strives to help each of her patients feel confident and comfortable in their skin.
Angie earned her RN degree from the Edgewood College of Nursing and has worked in healthcare for more than 11 years. She has been trained in all the cosmetic procedures offered at Madison Vein & Laser and Madison Medispa.
Injectables
In Waunakee, WI
Natural-looking, Long-lasting Results To Improve Facial Contours And Symmetry
CLOSE